A Reason to Celebrate and Say Thank You
This year Duggan marks our 20th year in business and we are just as nostalgic about the past as we are excited about the future.
We want to thank everyone who has made it possible for us to continue to do what we do, our families, dedicated team, our customers and suppliers.
As we appreciate the past and also look forward, we continuously invest in new ways to do more for our customers.
To learn more about Duggan's history, click here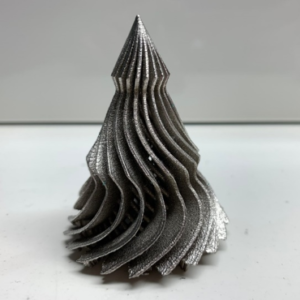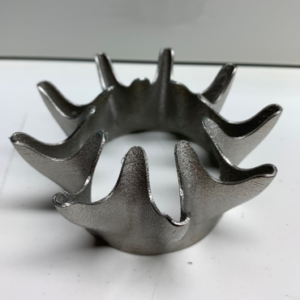 Metal Printing the Future
With the onset of the new year, Duggan Manufacturing is stepping into the future with the use of metal printing.  This process has been picking up speed in numerous industries, and here at Duggan.
With its flexibility and quick turnaround, metal printing can apply to many different applications including automotive, aerospace and medical.
We are excited to offer this manufacturing solution to our customers.
Click here to view more 3D printed parts.
How Does it Work?
3D printing, also called additive manufacturing, uses digital CAD files to create a three-dimensional part.
CAD data is sliced: Each slice of data translates to a thin, even layer of metal powder
Metal Powder Bed Fusion: A laser melts the metal powder particles and then they are layered together, which is referred to as metal powder bed fusion.
Part Formation: The combined layers build up to create the form of the part.
The finished product looks as if it was made by traditional stamping methods.  The geometry of the products that can be built have almost no constraints.
Why Metal Printing?
Flexibility: There are almost no constraints and an infinite amount of design and part possibilities.
Fast Turnaround:  Parts can be produced quickly and efficiently; perfect for condensed timelines.
Elimination of Tooling: Little to no tooling is needed, and changes can be added up until the start of production.
No Waste: The printing process uses almost all the material with much less waste than traditional methods.
Weight Reduction: Material is built only where it is required creating lightweight parts
Is There a Limit to Part Sizes?
Glad you asked!  While the printer can accommodate parts up to 10" wide by 12" inches tall, for parts that are larger in size, sections can be built and welded together.
Printing Material and Tolerances
Stainless Steel: The current material we utilize is Stainless Steel 316L.
Tolerance: The printing process can achieve a tolerance of +/- 0.127 mm in the final product.
Material Benefits: With high tensile strength, temperature and corrosion resistance, Stainless Steel is a dynamic metal alloy that stretches under tensile stress, is wear and corrosion resistance as well as easily welded, machined and polished.
Interested? 
For more information, and to find out if 3D printing is right for your project, contact us at 3Dprinting@dugganmfg.com or 586-254-7400.
We would love to answer any of your questions and get you a quick quote!