We offer a full service machine shop as well as numerous C.N.C. (computer numerical control) machines. Manual machining is a great choice for less complex, small orders of machined parts.
It is also helpful in producing one-off details for check fixtures, gauges, and tooling. Manual Bridgeport style mills, lathes, and surface grinders are all staples in our machine shop. Our machinists are highly skilled, and are also cross trained to program and run many smaller CNC type machines that are also in our machine shop.
Machine Shop Equipment
2 programmable Kent milling machines
2 programmable Prototrak milling machines
2 Bridgeport manual milling machines
2 Haas programmable tool room CNC milling centers
2 programmable surface grinders
Haas programmable CNC lathe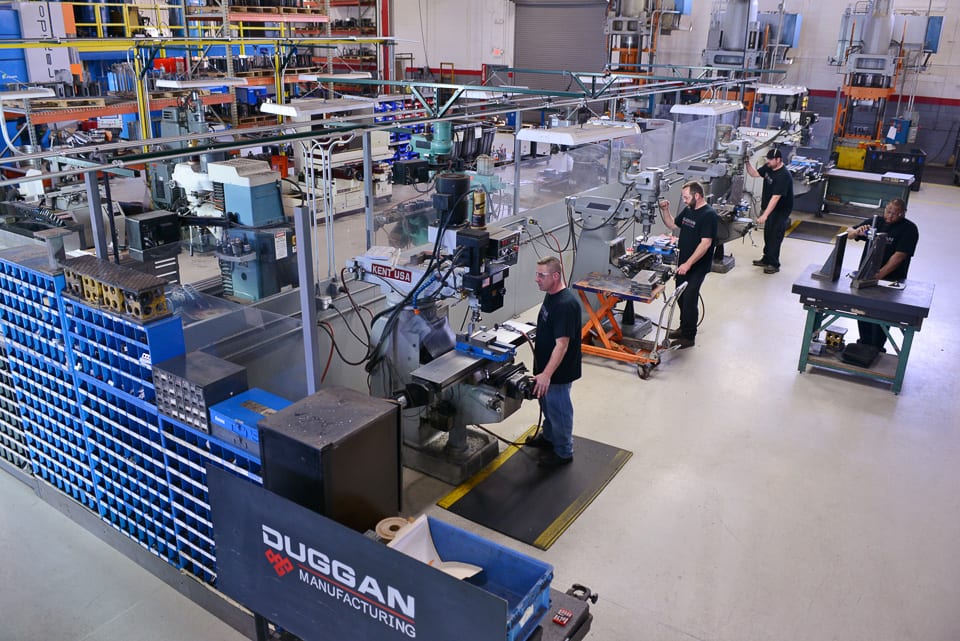 CNC Machining
CNC machining is used for more complex machined surfaces and geometries.
Our team of designers and CNC machinists work together to establish surfaces to be machined and then program milling centers and lathes to do all of the machining via computer control and code. Tool and die, larger products, and larger volume orders are all types of things that make having a large arsenal of CNC machines a must for any manufacturing facility.
CNC Equipment
5 Haas CNC vertical machining centers
3 Mori Seki CNC machining centers, one with pallet changing capability
1 Toyoda CNC vertical machining center
2 Haas CNC lathes
1 Mori Seki CNC lathe with dual spindles and live tooling
Table sizes up to 120" x 90" x 31"
Mastercam and WorkNC softwares for programming