CERTIFICATIONS
| | |
| --- | --- |
| Accreditation Bodies: | ASR, A2LA, many customer specific approvals |
| Certifications: | ISO 9001:2015, IATF 16949:2016, AS9100-D, ISO/IEC 17025 Accreditation Certification # 3793.01 |
| Capacity: | Quality system is tailored to function to Aerospace, Defense, Military, Agricultural, Heavy Truck, and many other industries. |
| Additional Specializations: | Certified to weld to over 23 welding Welding Procedure Specifications (WPS) |
General Quality System ISO 9001:2015
The ISO 9001:2015 standard forms the general basis for the Quality system at Duggan Manufacturing. Our company has been accredited to a version of the ISO standard for over 17 years.
The ISO standard ensures a quality system that satisfies customers' requirements across most of the industries we serve including automotive, aerospace and defense.  We pride ourselves on having a robust amount of quality certifications beyond ISO 9001:2015, including IATF 16949, ISO 9100-D, and laboratory accreditation ISO/IEC 17025 Certification # 3793.01.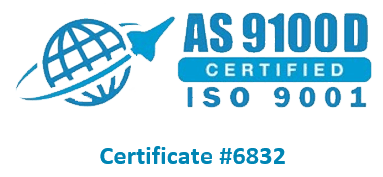 Automotive: IATF 16949:2016 Certification
Duggan has a robust quality system that compliments the IATF 16949 standard. We were one of the first companies to be certified to this new standard shortly after it was published in 2017
IATF 16949 is the latest automotive quality certification standard for tier 1 and 2 suppliers and is required by most OEM's. The standard fully replaces the previous ISO/TS 16949 standard. There were many refinements added relating to risk management and product safety. IATF 16949 is complimentary to and fully respects the ISO 9001:2015 quality standard.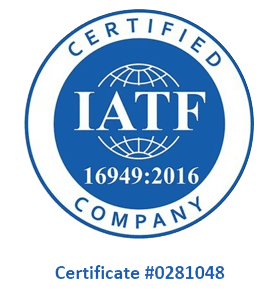 Aerospace & Defense: AS9100-D & ISO 9001:2015 Certification
Duggan Manufacturing takes customer satisfaction and quality management seriously, that is why we are certified to the AS9100-D Standard.
AS9100-D & ISO 9001:2015 is the standardized quality management system for both aerospace & defense industries. Major aerospace & defense manufacturers and suppliers worldwide rely on the compliance to ISO9001 as a base quality requirement along with the refinement of AS9100-D to ensure product quality that will meet or exceed customer's expectations.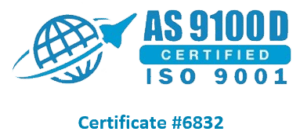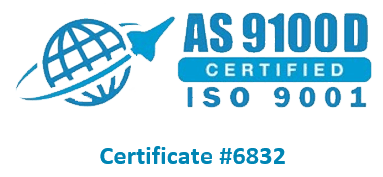 Inspection: A2LA ISO/IEC 17025 Laboratory Accreditation Certification # 3793.01
ISO/IEC 17025 accreditation Certification # 3793.01 is the single most important standard for calibration and testing laboratories around the world. We are collaboratively tested every 6 months and have demonstrated repeatedly that we are technically proficient at producing accurate and precise data. This means you can have the confidence in our inspection methods and results.

Additional Certifications
Duggan Manufacturing has documented Welding Procedure Specifications (WPS) and Welding Procedure Qualification Records (PQR) for the following materials and applications:
AWS D1.1/D1.1M:2008 Structural Welding Code‐Steel
AWS D1.2/D1.2M:2003 Structural Welding Code‐Aluminum
AWS D1.3/D1.3M:2008 Structural Welding Code‐Sheet Steel
AWS D1.4/D1.4M:2005 Structural Welding Code‐Reinforcing Steel
AWS D1.6/D1.6M:2007 Structural Welding Code‐Stainless Steel
AWS D1.9/D1.9M:2007 Structural Welding Code‐Titanium
AWS D9.1M/D9.1:2006 American National Standard Sheet Metal Welding Code
AWS D15.1/D15.1M:2007 Railroad Welding Specification for Cars and Locomotives
AWS D17.1:2001 Specification for Fusion Welding for Aerospace Applications
AWS D17.2M:2007 Specification for Resistance Welding for Aerospace Applications
AASHTO/AWS D1.5M/D1.5:2002 Bridge Welding Code
TACOM Drawing 12479550 Ground Combat Vehicles Welding Code‐Steel
TACOM Drawing 12472301 Ground Combat Vehicles Welding Code‐Aluminum
SD‐X12140D M1 Tank Program Process Specification for Welding Homogeneous Armor Metal‐Arc General Requirements
SD‐X12142A Process Specification for Arc Welding Procedure for Constructional Steel
SD‐X12143A M1 Tank Program Specification for Welding Gas Metal‐Arc, Gas Tungsten‐Arc, Aluminum Alloys, Readily Weldable For Structure Excluding Armor
MIL‐DTL‐45210 Welding, Resistance, Spot Weldable Aluminum Alloys
MIL‐STD‐2219A Fusion Welding for Aerospace Applications
Chrysler RSW 20091113134600
Faurecia Appendix J
GM Automotive Arc Welding Spec
John Deere Weld spec JDV 20.1
TRW Weld Spec TS3‐46‐006
We also have the in‐house capabilities to self certify additional welding applications as the need arises.
Please contact Duggan Manufacturing with any questions regarding our quality certifications.