BAE Systems has named Duggan Manufacturing Domestic Supplier of the Year.
Duggan received the award for their support of the MK 110 Naval Gun Project. Chosen from nearly 22,000 suppliers, the award is an honor and great accomplishment.
The criteria for selection was based on achieving on-time delivery and superb quality standards in 2020 across key programs. At Duggan Manufacturing, great pride is taken in supplying products and services that help support our military and the country's defense

"We are truly grateful for our partnership with BAE. It is a humbling experience to receive an award after the last year and the many difficulties it has presented our company with.
  – Tony Pinho, President, Duggan Manufacturing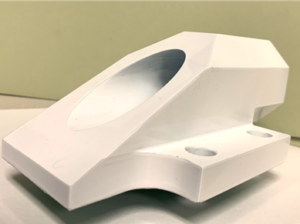 Over the last 20 years, Duggan has been committed to holding delivery schedules while maintaining part quality. What gives us a leading edge is our numerous in-house capabilities with the latest equipment and technology, which speeds up time-to-market, delivering a high-quality product every time.

Customers who chose Duggan are satisfied by our skills and expertise, giving them the confidence that their products are produced in the best way possible, while also gaining efficiency from not having to source work from multiple suppliers. Whether it is prototype development or a full production run, we have the resources and capabilities to accomplish your goals.

For support on a current or future program, please contact us at:
Email: info@dugganmfg.com
Phone: 586-254-7400 Ext 7005
Information on the MK 110 Program:
https://militaryleak.com/2020/10/12/bae-systems-to-provide-57mm-mk-110-naval-gun-for-us-navy/
BAE Systems Supplier award 2020 Announcement:
https://www.baesystems.com/en-us/article/bae-systems-names-partner2win-supplier-of-the-year-award-winners
BAE Systems suppliers and partners:
https://www.baesystems.com/en/our-company/sustainability/partners-and-suppliers/suppliers